Please sign this petition
ARISE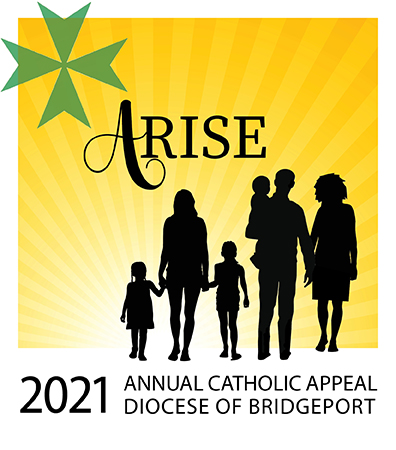 The Annual Catholic Appeal for the Diocese of Bridgeport for 2021 is underway!
The Annual Catholic Appeal funds a broad range of essential ministries, programs and agencies that deliver pastoral care and human services where they are most needed. Every gift is an opportunity for us to come together as a family of afaith to support Diocesan-sponsored programs that no single parish can provide on its own.
Our Parish's goal is $32,100.
Please prayerfully consider your donation this year to support the ministries of the Diocese to those in need.
You may donate here:
Rite of Election
Lenten Observance
Spiritual Communion
Mass Times
Sunday: 7:30 AM, 9:45 AM, and 11:30 AM (temporary schedule)

Saturday: 8:00 AM, 5:00 PM Vigil

Weekday Morning Mass: 7:30 AM

Holy Days of Obligation
Vigil Mass: 7:00 PM
7:30 AM and 12:00 PM

Adoration of the Blessed Sacrament
Adoration will return as soon as possible

Sacrament of Reconciliation
Saturdays, 3:30-4:30 PM in the Cafe
Office Hours
Our Office is staffed at irregular hours as we observe Covid-19 restrictions. Please call before you come. We check emails and messages regularly.
Parish Registration
We are excited that you have chosen to worship with us here at Sacred Heart of Jesus Parish. Our registration form is here on our website. Please take a moment to fill it out.
Connect with Flocknote
Staff
Pastor

Director of Faith Formation

Financial Administrator